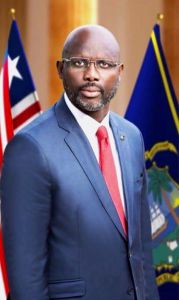 H.E. George Manneh Weah
President
Republic of Liberia
Liberia's 24th President, Dr. George Manneh Weah, was born on October 1, 1966 on the Capitol Bypass in Monrovia, Montserrado County unto the union of Mr. William Tarpeh Weah and Madam Anna Quayeweh Weah (both deceased). He holds ancestry to the Kru and Bassa ethnic groups, as his father hailed from Grand Kru County while his mother hailed from Grand Bassa County. The Liberian Leader, born in a Christian home, got converted as a Muslim in 1989. To keep alive his grandmother religious' tutelage, President Weah reconverted to Christianity following her death in 1994.  Presently, he is a devout Christian; he is a full and dutiful member of Georgia Patten United Methodist Church located down Waterside, Johansen Drive, Monrovia.
His Father, the late William T. Weah, worked as a mechanic with LIBTRACO on Johansen Drive while his mother, Madam Anna Quayeweh Weah, was a marketer. Dr. George Manneh Weah was reared by his late grandmother, Emma Forkay Klonjlaleh Brown, a devout Christian. Dr. George Manneh Weah George is one of dozens of children brought up by his grandmother.
President Weah is one of 13 siblings in his family. The Liberian Leader is a family man. He married Clar Marie Weah in 1992. The Liberian Leader is blessed with children (biological and adopted).
Education
In 2013, the Liberian Leader earned a master's degree in Public Administration (MPA) from Keller Graduate School of Management, DeVry University, United States of America. In 2011, Dr. George Manneh Weah earned a Bachelor Degree (BA) in Business Administration from the DeVry University in Miami, Florida (United States of America).
He began his early childhood education at the Daniel E. Howard and C. W. Brumskine Elementary schools. President Weah later attended G. W. Gibson and Ellen Mills Scarborough for his junior high education. In pursuit of secondary school education, President Weah attended Muslim Congress and Wells Hairston High Schools. He obtained high school diploma from the Continental Academy in the United States on September 21, 2007.
The Liberian Leader has three honorary Doctorate Degrees of Humane Letters (LHD). The Honoris Causa are in recognition of President Weah's accomplishments and contributions in many fields, including humanity, sports, peacebuilding and education.
They were conferred on him by the AME Zion University (June 22, 1997), Cuttington University (June 29, 2018) and University of Liberia (December 12, 2018).
Soccer Career
President Weah became famous at a young age due to his adorable soccer exploits. He started as a goalkeeper with Young Brazil. He later played for Bahjaenekay and Young Survivors, scoring 34 goals in his debut season thus earning him the highest goal scorer in the league. Notably in Liberia, President Weah played for Bong Range United, Mighty Barrolle and Invincible Eleven. In 1987, he won the highest goals scorer (Golden Boots) and most valuable player awards in the Liberia Football Association First Division League.
He was recruited by Tonnerre Kalara Club de Yaoundé in late December of 1987. Following a brief spell in Cameroun, the Liberian Leader was signed by A S Monaco of France (1988 – 1992).
The President of Liberia also played for Paris Saint-Germaine (1992-1994). From 1994 to 1999, he played for AC Milan in Italy. President Weah continued his glamorous soccer career playing for Chelsea FC in England (1999), and Manchester City (1999) in England. He moved back to France to play for Olympic Marseille and contributed in saving the club from relegation. He finally drew the curtains on his soccer career playing with Al-Jazira in the United Arab Emirates (2000 – 2003).
During his soccer career, the President won collective and individual awards, including three Confederation of African Football (CAF) Player of the Year awards, Federation of International Football Association (FIFA) Player of the Year, Ballon d'Or, Union of European Football Association (UEFA) and the Confederation of African Football (CAF) Player of the Year in 1995-1996. To date, he is the only African player to achieve this feat in a single year.
President Weah represented his country as he played, captained and served as technical director for the Liberia National Soccer Team, Lone Star. He led them to two African Cup of Nations finals (1996 and 2002).
Job Experience
While playing for Invincible Eleven (IE), President Weah worked for the Liberia's Post and Telecommunication as switch board operator.
Accolades – Club
Invincible Eleven (IE)
Liberia Football Association Premier League (Champions 1986-1987)
AS Monaco (France)
Coupe de France 1991
Paris Saint-Germain
Ligue 1 – 1993-94
Coupe de France
1992/93, 1994/95
Coupe de la Ligue
1995
A.C. Milan (Italy)
Serie A
1995/96, 1998/99
Chelsea FC (England)
FA Cup
1999/2000
Individual Awards
African Footballer of the Year: 1989, 1994 and 1995

FIFA XI: 1991, 1996 (reserve), 1997, 1998

French Division 1: Foreign Player of the Year 1990/91

UEFA Champions League Top Scorer: 1994/95

BBC African Footballer of the Year: 1995

Onze d'Or: 1995

Ballon d'Or: 1995

FIFA Player of the Year: 1995

ESM Team of the Year: 1995/96

Onze d'Argent: 1996

FIFA Fair Play Award: 1996

FIFA Player of the Year (2nd place): 1996

IFFHS African Player of the Century: 1996

World Soccer 100 Greatest Footballers of All Time: 1996

FIFA 100: 2004

Arthur Ashe Courage Award: 2004

Golden Foot Legends: 2005

AC Milan Hall of Fame

IFFHS Legends
Goodwill Ambassador
Having worked extensively with UNICEF beginning 1994, Weah was named its Goodwill Ambassador on April 7, 1997. On July 14, 2004, Weah received the prestigious Arthur Ashe Courage Award from ESPN for his work on behalf of children who were affected by conflict, disease, and poverty. Additionally, that year, Weah made several visits to Liberia and Sierra Leone as Goodwill Ambassador in support of HIV/AIDS prevention and polio vaccination campaigns. He also partnered with UNICEF to reintegrate and demobilize child soldiers (boys and girls) back into their families and communities in Liberia as he did in Sierra Leone.
After ending his glamorous career in 2003, Weah returned home and labored in restoring peace to Liberia, a nation rocked by an internal conflict. He mainly risked everything, including moving into dangerous terrains, to ensure a successful disarmament of thousands of ex-combatants in his capacity as UNICEF Goodwill Ambassador.
Politics
Dr. George Manneh Weah began his political career in 2004. He is the founder of Liberia National Congress Party (LINCP) which later became the formidable Congress for Democratic Change (CDC). Weah contested three elections and won two. He lost the presidential race in the runoff with former President Ellen Johnson-Sirleaf in 2005. In 2014, Weah contested and won the Montserrado County Senatorial by-election. In November 2017, he won the General and Presidential Elections with over 60% of valid votes following a runoff with former vice president, Joseph N. Boakai. Dr. Weah was inaugurated on January 22, 2018.
In his first annual message to the National Legislature, President Weah reduced his salary and other benefits by 25% with immediate effect.  According to Article 60 of the Liberian Constitution, salaries of the President and the Vice President are established by the National Legislature and cannot be increased or reduced during the period for which they are elected. However, the President took the action in view of the very rapidly deteriorating economic situation of Liberia.
Humanitarian
During years of carnage and nightmare in Liberia as a result of the Liberian civil crisis (1990 – 2003), President Weah wasn't just the positive image of Liberia but was also the source of life for many. He was the nation's torchbearer during those dark days.
He flew regularly to refugee camps hosting Liberians, most notably the Bujumbura camp in Ghana. He provided relief items, sponsored some refugees in school and gave air tickets to some who had the opportunity of traveling for better future.
Back home, Weah took charge of sponsoring the national team, Lone Star, which he captained and later served as technical director for, to honor international games at his personal expense. He awarded scholarships to deserving and disadvantaged students and children respectively. To date, Weah has the highest number of scholarships in the country.
The Pro-Poor Agenda for Prosperity and Development, FY 2018 – FY 2022, which my Government launched today sets our country on a path to eliminating extreme poverty and achieving middle income status by the timeline set by Liberia Rising 2030. Efforts to attain our national socio-economic goals have been supported steadfastly by our development partners including national governments, international and non-governmental organizations, especially during very trying times. While the country expects continued engagement of the international donor community in our development, we must play a greater part by ensuring that every citizen and business that earns an income in Liberia contributes by paying lawful taxes.
Towards this laudable national effort, my Government has crafted a Domestic Resource Mobilization (DRM) strategy in tandem with the Pro-Poor Agenda to increase funding for development and poverty reduction in our country. The revenue proposals originated  from  nationwide  dialogues  attended  by Government officials, taxpayers, business associations, civil society organizations, community opinion leaders and donor partners. The overall objective of the national DRM Strategy is to identify and guide national initiatives to garner sustainable domestic resources to finance inclusive growth and poverty reduction in furtherance of 'Liberia Rising' 2030'. It is intended to enhance funding for the country's Pro Poor Agenda and achieve the Sustainable Development Goals (SDGs), while strengthening national frontline defenses against downside socio-economic risks such as a fall in international commodity prices and emergencies such as the Ebola Virus Disease.
The DRM strategy seeks to raise the revenue effort by introducing digitalization and modern information technology, expanding access to tax administration services, enhancing the efficiency and effectiveness of taxation, turning tax discount into tax premium sectors, financial deepening to encourage more savings for private investment and exploiting the nexus between foreign development assistance and DRM. The scope of activities touched by the DRM Strategy is widened to ensure that while there are no major increases in tax rates in consonance with the Pro-Poor Agenda, the revenue base is expanded so that every citizen and business contributes a fair share.
For compatriots, a culture of paying taxes must be embraced as the most successful source of financing development in all countries of the world. Indeed, loans and grants from other countries though expedient at this stage of our development, also constitute savings of, and taxes paid by, inhabitants of other countries. For every Liberian, obtaining a tax identification number (TIN) as an income earner or business owner is, for all intents and purposes, the first sign of a true patriot. In paying taxes, we fulfill our social contract with the State, as the Holy Bible enjoins us to do: 'give onto Caesar what is Caesar's.' In return, public officials must earn your confidence through accountability, transparency and probity in the use of public resources.
I call upon all Liberians to get acquainted with the DRM to seriously ask themselves how best to contribute to its realization. This call extends to our able and distinguished sons and daughters in the Diaspora, for whom the DRM has customized instruments to facilitate their participation in the development of the motherland. I am convinced, and my Government is resolved, to overcome our socio-economic and financial constraints through our own efforts foremost, and then strengthened collaboration and partnership with all friends of Liberia – bilateral governments, multilateral institutions and civil society organizations. Let us boldly move from a DRM strategy in formulation to full implementation that results in more revenue to keep millions of Liberians out of extreme poverty.